Launching at my client the British Council, the report was never going to be a 'one size fits all' in this ambitious report looking at climate scepticism in the world's media (well big chunks of it including Brazil, China, France, India, the UK and the USA).
The economic downturn has been a diversion away from media reporting on climate change. The related issue about the lack of any media reporting on climate change was noted and that when it is reported, Climate scepticism seems to make for a better headline.
The world is a much tougher place for anything to do with the environment or climate change – not just with news coverage, but for funding and advocacy work.  Many organisations have moved CSR and sustainability to be part of product innovation (looking at supply chain and procurement). The focus is now on hard sales. All this is an important backdrop for the British media (and its increasingly negative reporting).
The launch by the Reuters Institute for the Study of Journalism (executive summary can be downloaded here) examined 3,000 articles from two newspapers in each country. It was really the tip of the media iceberg without looking at broadcast media and the direct roles of world leaders such as Obama, Sarkosy and Cameron.
The Anglo Saxon media are the most climate sceptic (The Express had the most at 50%) followed by the US, who are twice as wedded to fossil fuels.
In contract the French media have a deep-rooted trust of scientists and therefore do not question as much (the facts speak for themselves with their 80% reliance on nuclear).
It is also interesting that China's media tend not to question the science but to focus on what can be done to deal with climate change.  Maybe there's something to learn from them?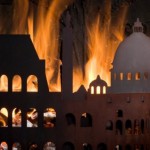 One wonders where newsrooms editors can go with climate change – the discourse seems to have been locked out while Rome burns.