Animations are lush backdrops of nature; Madagascar and a bunch of tear away lost New York Zoo animals, Finding Nemo and a father searching for his lost son. I love the messages in these films, respecting nature, diversity and rights of passage.
It's not far from Madagascar on the island of La Réunion in the southern Indian Ocean three surfers have recently been killed by sharks. Allegedly the surfers have turned on the sharks and pressured the government to act, which they have and under duress captured 20 rare sharks for 'scientific study'. Some surfers claim that other environmentally destructive practices such as commercial fishing are far worse than a few sharks being killed.
However deaths by sharks are not to be belittled, but many many more sharks die each year. You only need to look at the facts presented by PETA's excellent Free The Sharks Week. From 1580 to 2007 there were 64 deaths from great white shark attacks reported. And last year alone humans killed 73 million sharks, all would have died horrible deaths without their fins, shipped off to make shark's fin soup.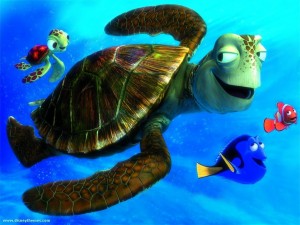 What makes this war on nature worse is that surfers are role models for nature. Look at Crush the surf dude turtle in Finding Nemo – the coolest character; "Now give me some fin". Even Bruce the shark knows he needs to change himself and see "Fish as friends, not food". Hard to believe but the Sharks have been around way longer than dinosaurs and surfers. The surfers of Le Réunion knew the risks. Advised not to surf late in the afternoon when shark's are active (the two most recent death's were late afternoon / sunset) and avoid surfing near river mouths – a favoured habitat of sharks. The worst part of this story
aside from the deaths – is that you would think that surfers would understand the beauty of nature and the harmony man and nature can achieve together.