Starbucks could have dealt much better with the sticky situation they've found themselves in over their underpaid tax. The coffee chain in future needs to deal with problems a whole lot smarter and here's how:
1. Be open
Starbucks could have drawn the sting by asking people in-store what they should do about their tax situation, having made the wrong decision in the first place.
Openly talking ab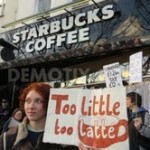 out it with their customers as soon as the problem came to light would have saved a reputation re-think, which is now needed to address some of the disappointment from their customers.
Instead, rather belatedly, they have decided to pay more tax than normal in the next two years. Too late for some people; on Twitter the anger expressed, "I've paid how much to starbucks over the years? And not a penny since 2009 has gone to hmrc? Sigh turning to anger", has turned #boycottstarbucks in to a trend.
2.Change your plans
Why not 'pull' some of the planned new store openings in towns and villages least welcoming. Make this a money saving measure, saving for your tax bill like most companies.
3.Fix it
Speed and transparency often resolves many of the issues when reputation hangs in the balance. It would have been better to openly accept the situation and pay the taxes that were owed immediately.
4. Give and you shall receive
Often when an individual or company are found to fall short and subsequently right the situation, they are obliged to make a charitable donation. Why not make a huge donation to Shelter or Crisis at Christmas. Make it part of your on-going Shared Planet.
5. Make-up for it
Think about ways moving forward to be a more agreeable, engaging and listening organisation, which benefits the UK market (and then people might offset the more brash American image you sometimes have).
Green Banana Marketing believes in organisations that are smarter, fairer and greener. We strongly encourage Starbucks to make a difference for the right reason with its business in the UK and the rest of the world.