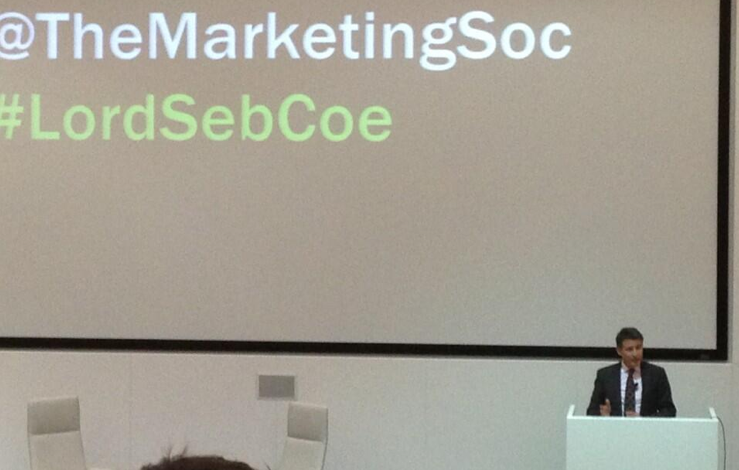 Seb is humble as humble can be. He is the Ronnie Corbett of sport, telling the best stories about the 2012 Olympics, which he led from start to finish. I'm probably not alone in saying I would have been happy to hear him speak all night at last night's Marketing Society Annual Conference where he regaled us for an hour. He was joined on stage by the equally affable triple jumper, Jonathan Edwards, whose 18m world record for triple jump record still remains unbeaten.
Sitting listening on the back row, with hundreds of people in front of me in the wonderful Royal College of General Practitioners Theatre, I realise in my view that Seb Coe embodies everything that makes up a truly modern leader.
Humour and proportionality
He balances laughter and humour, in the face of impossible tasks, in this case of reaching the games finish line at the start of their seven year journey.
It was pleasure to witness the lively banter between Seb and Jonathan, who obviously hold each other in high esteem. He quotes former PM from the 1900s Arthur Balfour "Nothing matters very much and few things matter at all" as a reminder to keep things in perspective. He said the delivery was way more funny than the BBC's '2012' series. The epilepsy causing logo film, the cabbies complaining about traffic, the lost bus, the red lights turned to green (yes really), and the ticketing.
Team
He understands the importance of his team. Having the best team – but not the obvious choices, no boring Olympic lifers, but people at the top of their game. Seb has built a loyal and strong team around him. I saw the way his face lit up when he greeted David Magliano, who was Director of Marketing for London 2012 and was pivotal in delivering the 'why' we're doing the Games. Seb mentioned David more than three times in his speech.
He said his father was his biggest most inspiring character in his life, which is something given all of the sporting heroes Seb could have chosen. Proof that family is his main frame of reference – 'his other team'.
I was intrigued by this lone runner – trained by his father (often himself using new and unusual techniques) – who was suddenly in a 'team sport' with hundreds of people around him, and seemingly enjoying every minute.
He heaped praise and glory on the close-knit team that made the games happen. He holds in disdain the 'Armada of instant experts' who turned up and the mass "glorification of the uninvolved" who mostly didn't want the games in the first place.
The (K)night's lecture was about much more than about sport. In fact sport wasn't mentioned much at all. It was about a way of doing things. Not Seb's way but his team's way.
Vision
Their vision was the bedrock they returned to when making all their decisions.
For a Grantham born and bred man who calls a spade a spade, he didn't mince his words about where he sees logos and all that stuff. But clearly he does see value in brand and comms – which was of great interest.
Hard work
Seb finally slept a full night's sleep on 10 September 2012 without waking up in the morning worrying about 'winning the bid' or delivering the games. This man creates loyalty and inspires those around him to go that bit further – to work day and night without questioning. It is no surprise that he was instrumental in delivering the Games maker programme, which drew in medics and cabbies.
Seb is somebody who has the grace and strength to recognise his own shortcomings, to not to take himself too seriously, and at the same time to win over the many serious heavy-weight partners (and the challenges that were thrown at him day and night).
I'm sure he was wasted as an MP. There were a few cheap calls for him to run for PM. That's wrong in my view. He is a people person. At his best delivering some of the world's biggest themes. Here's to his role in bringing the games to Africa, one of his stated dreams. Here's to him continuing to make health and sport a part of everyone's life. Normalising disability. And here's to him leading when it comes to supporting low-carbon planet healthy games. Seb is a hero.