The Shard is a very very high building. You forget this when the lift whisks you up to the 28th floor in a few seconds, not even a third of the way up Europe's tallest building. Irvine Sellar (the entrepreneur behind the Shard), Ronan Dunne (CEO of O2) and Benny Higgins (CEO of Tesco Bank) gave a very frank overview of their thoughts on leadership – interviewed by the excellent Suki Thompson on the launch of Oystercatcher's new report, 'Tough at the top'. Perhaps the location on the 28th floor was a physical reminder of how tough it really is getting to the top (there are 92-floors in this monolith).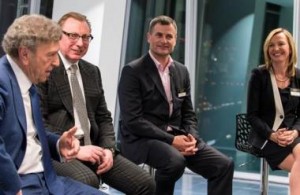 What did we learn about leadership – in order of importance it is about:
1. Building trust. Higgins, behind Tesco Bank, said that having 'the courage to lean into the truth to create enduring trust' as well as anchoring the company's work in the truth, was essential. The Tesco mothership has been redoubling it's leaning efforts over the last fortnight.
2. Having the courage – which few do – to pick the very best team (better than you) as well as having the courage to say when things are not going so well
3. Being a great storyteller in a way that inspires those around you to follow
4. Having the ability to make the right decisions and to learn quickly from making the wrong ones.
5. The ability to get things done. Irvine thinks entrepreneurs don't necessarily fit the bill to be good CEOs – they are much better at start-ups and handing over to guys like Ronan and Benny to finish.
6. Conducting the team, and making everyone else's success shine
In this brief
interview, the conclusion was that marketing folk – with all their passion – could lead at the top of an organisation, but sometimes found it difficult to let go of their specialism.
When it got to what would be on each of their epitaphs – I crossed my fingers and hoped that the Arup's 'wobbly bridge' bloke wasn't the PM on The Shard! Ronan said he wanted to leave a positive legacy. I loved O2's ambition of getting the UK's one million youth back into work (is that really in O2's business plan?). I wanted to ask Irvine how it felt to build the tallest building in Europe and yet forget to put bike racks in anywhere nearby – it took me 15 minutes to park my bike – but at least from the 28th I could see where I park it on the Southbank.
A few interesting quips and anecdotes from our CEOs but if you want to see truly inspirational leadership, look at interviews with Patagonia founder, Yvon Chouinard or Tim Smit (founder of the Eden Project) – they are real game changers.