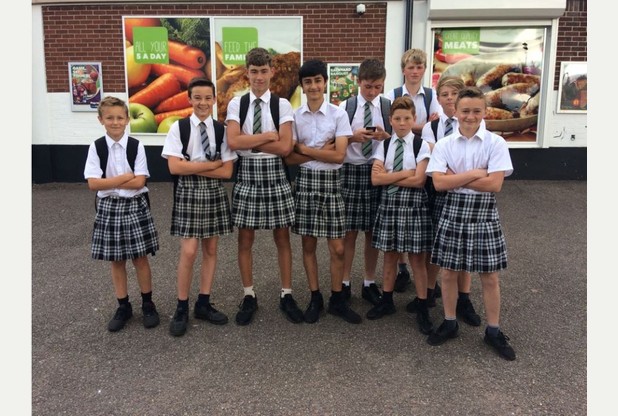 Bravery takes on a new meaning when fighting against environmental, social and human rights wrongs. I'm still inspired by the words of WWF's Founder, Sir Peter Scott, who said; "We shan't save all we should like to, but we shall save a great deal more than if we had never tried". A sentence etched with brave intent.
I have chosen three examples of brave campaigns standing up to 'wrongs'.
Boys wearing skirts
Like something from the pages of Boy in the dress by David Walliams, boys at an Exeter school took their protest against the school's "no shorts" policy, as temperatures soared in late June, to the head teacher. Suffering from the heat, one of the teachers sarcastically said 'Well you can wear a skirt if you like'. So the next day they all turned up wearing skirts.
Long live their campaigning spirits. The head admitted that if the heatwave continued, she would be happy to consider a change for the future. However small this injustice, it took bravery tochallenge the rules.
Bridge Over Troubled Water
It's tough knowing how to respond to disasters on the scale of the Glenfell Tower tragedy. Simon Cowell knew just how -to record and release a version of Bridge Over Troubled Water to raise money for the victims and survivors. It takes courage and bravery to jump into recording a song, and putting yourself on the line for others. So many artists took part including Bastille, Brian May, Emeli Sande, Jessie J, Paloma Faith, Stormzy and The Who (Roger Daltrey, Pete Townshend) and Tony Hadley. It has also been revealed that Simon Cowell donated £100,000 of his own money.
A Living River installation
On the subject of rivers, HSBC created an installation to celebrate its work with WWF's Living Rivers – #ALivingRiver about the Yangtze river conservation work funded by the bank. In the words of former marketing director Chris Clarke, "the bold and slightly hare-brained project was the product of trust in our agency born of long-term team continuity". A brave way to bring alive the project touching many with the important conservation story.
What does bravery mean to you and your organisation? Every day actions can make a difference. Stand up to wrongs. It is the inspiration and driver for all I have done in the charity sector.
Wishing you all a happy summer.