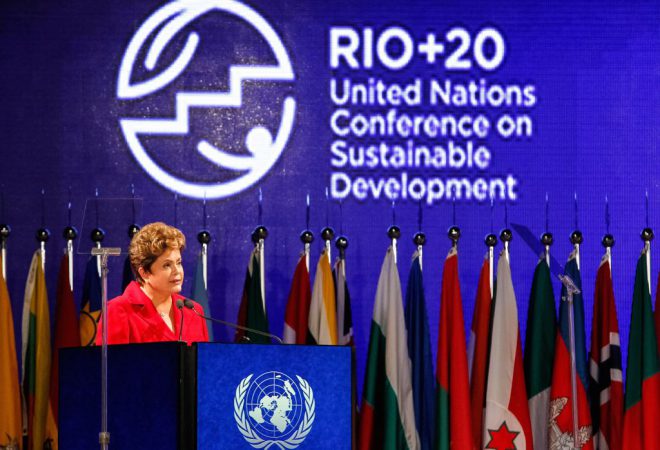 With thousands of business and industrial CEOs descending on the Rio+20 conference, we believe that this is a great opportunity to raise awareness to the importance of sustainability within business and industry. When comparing the thousands of businesses that are attending Rio+20, to the 50 or so businesses that attended the Rio Earth Summit in 1992, it shows how much attitude in business has changed to sustainability.
So how can Rio+20 encourage business leaders to improve their focus on sustainability? We believe it must be made clear at Rio+20 that whilst businesses should be improving their own sustainability, they should also be making themselves into role models in sustainability to smaller businesses, customers and stakeholders. Businesses should be following the example set by companies such as M&S and their 'Plan A' initiative. GBM attended Marks & Spencer's 'Plan A' Stakeholder Event yesterday and heard of substantial progress in lessening their environmental impacts.  More initiatives focusing on improving the social and economic conditions of their supply chain are currently underway, such as their Living Wage programme, which is aimed at increasing the pay and conditions in the factories that they use. On top of this they are engaging customers to join in with their push for improved sustainability through Shwopping. We at GBM would love to see M&S become a leader and encourage the retail sector to follow in their footsteps, through mentoring smaller businesses on how to improve their own sustainability.
It has been discussed that some businesses will be pushing for policies to be produced that will improve environmental quality and social benefits from economic growth at Rio+20. Policies like this will not only vastly improve sustainability within business, it will also pave the way for growth in the renewable energy market, the production of greener products, services and initiatives, as well as helping to create more jobs. We believe that policies regulating sustainability within business are severely lacking, with incentives for businesses to become sustainable mainly based on public pressure.
It will be interesting to see how the next Rio Summit in 20-30 years times differs from Rio+20. Will Rio+20 have set the sustainability world in motion, allowing the next summit to focus on improving on sustainable innovations? Or will Rio+20 fail to make an impact and the next summit be another attempt to kickstart the sustainability movement? We at GBM would like to see even more businesses attending; with more there to drive governments to introduce stricter regulations and legislations on sustainability. We would like to see more market leaders like M&S attending the conferences, steering business sustainability in the right direction.
It will be interesting to see the outcome of the Rio+20 summit, hopefully it will lead to the development of much needed governmental policies regulating the impact businesses have on the environment and society, paving the way for a more sustainable future within business.